On December 9th at 12pm Local Option will host it's final Catalina Wine Mixer of 2016. All the drafts will pour beginning at noon and the guitar shred contest begins at 10pm.
The draft list for this event will feature rare and highly sought after drafts from Hoppin' Frog, Ale Asylum, Freigeist Bierkultur, 18th Street Brewery, Brewski, Mikkeller, Prairie Artisan Ales and more. Of special note is Half Acre's Big Hugs, which will be available on tap before its normal brewery-only Saturday release.
Draft List
18th Street Barrel Aged Sour Saison
Aldersbacher Kloster Weisse Hell
Ale Asylum Bourbon Barrel Aged Impending Descent
Ale Asylum Spawn #17
Alesmith Vietnamese Speedway
Almanac Farmer's Reserve Raspberry
Alpine Pure Hoppiness
Brewski/Green Bench Keyser Gose
Central Waters BBA Quad *Nitro*
De Molen Cuvee #5
Founders Backwoods Bastard
Freigeist Abraxxxas Apple Lichtenheiner
Half Acre Big Hugs
Half Acre Deep Space
Half Acre Double Daisy Cutter
Hoppin' Frog Rum Barrel Aged BORIS
Hoppin' Frog T.O.R.I.S
Lagunitas High Westified
Local Option Bierwerker Kentucky Common
Local Option Bierwerker Outlawger
Mikkeller 黑 Black
Pipeworks Blueberry Cichlid
Pipeworks Citra Imperial IPA
Pipeworks/Local Option/Freigeist Long Hair Affair
Prairie Christmas Bomb!
Spiteful Working For The Weekend
Three Floyds Floydivision 2
Three Floyds Zombie Dust
Trois Dames Winter Sour
Trou du Diable/De La Senne Schieve Tabarnak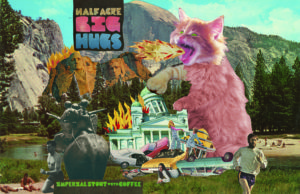 The guitar shred contest begins at 10pm. Contestants will are asked to bring their own guitars. We will provide amplification. The winner will be decided based on crowd participation. If you think that you have what it takes to compete with the Catalina Wine Mixer legends e-mail us at (666 at LocalOptionbier dot com) or sign up at the bar.
Links:
Facebook: https://www.facebook.com/events/349874582037960/
BeerMenus: https://www.beermenus.com/events/23939-catalina-wine-mixer
Beer Advocate: https://www.beeradvocate.com/events/info/81925/
Ratebeer: https://www.ratebeer.com/event/50951/